Elysium Spa Resort - Alibaug
About Alibaug:
Located 110 km south of Mumbai, Alibaug is a 300-year old seaside town in the Konkani region of Maharashtra. Also known as 'Shreebag', Alibaug is also the headquarters of the Raigad district. Spread over a small strip on the Arabian Sea, on the southern side of Mumbai, Alibaug is a destination well known for its beautiful beaches, surrounded by coconut trees. The Kolaba Beach, Akshi Beach Kihim, Kashid are some of the popular beaches in Alibaug. The town is also known for its Bene Israeli Jews, settled there from the early 19th century. The origin of Alibaug goes back to the 17th century. It was developed by Sarkhal Kanhojio Aangre, the naval chief of King Shivaji's regime. Alibaug has been witness to numerous historical events. There is a famous fort called Kollaba Fort situated just 2 km from the sea coast of Alibaug. In fact, the earlier name of Alibaug was 'Kulaba', but later became well known as Ali's baug (garden) after the rich Jew gardener named Ali, who had several plantations in the area. Other than beaches, tourists can visit the famous Tower of St. Barbara, historical forts, ancient churches, synagogues, etc. in Alibaug. One can also savour typical Maharashtrian food like bhaji, bread made of flour called bhakri and fish items. Other places of tourists' interest nearby Alibaug (15 km) is Chaul, which is a historical town, known for its ruins of the Portuguese, and most importantly a Buddhist cave, a hamam khana. These places are also very popular among tourists. On the way to Mandawa, about 12 km from Alibaug, there is the Kanakeshwar Temple, on a hill near Mapgaon. There is also the Vikram Vinayak Temple, commonly called the Birla Temple.


The best way to reach Alibaug is by boats and ferries which sail from the Gateway of India on a daily basis. The journey takes around 45 minutes to reach Mandwa. There are regular bus services from Mandwa to Alibaug which takes around 45 minutes to reach. Alibaug has a pleasant climate year-round. The best time to visit Alibaug is from November to July.
Deluxe Rooms


Amenities:
A.C rooms with double beds
En-suite showers and bathrooms
Laundry facilities
Television with dish TV




Super Deluxe Rooms


Amenities:
A.C rooms with double beds
En-suite showers and bathrooms
Laundry facilities



Suite Rooms


Amenities:
A.C rooms with double beds
Mini Fridge
En-suite showers and bathrooms
Laundry facilities



Presidential Suite


Amenities:
A.C. rooms with double beds
Mini Fridge
En-suite showers and bathrooms
Laundry facilities



Buffet


Breakfast, lunch and Dinner




A La Carte Menu




| Therapies | Duration | Price |
| --- | --- | --- |
| AromaTherapy Massage Relaxing | 1hour | Rs. 2200/- |
| Head-Neck-Shoulder Massage | 30 min | Rs. 1800/- |
| Foot Reflexology | 30 min | Rs. 1800/- |
| Ayurvedic Massage | 1 hour | Rs. 2200/- |
| Olive Oil Massage | 1 hour | Rs. 2200/- |
| Almond Oil Massage | 1 hour | Rs. 2200/- |
Internal Facilities


- Pool Table
- Table Tennis Room

External Facilities


- Ground for cricket and football
- Badminton - Swimming Pool
a) Alibaug - Mumbaikar's Favorite.
Just an hours ferry ride away from Gate way of India is a series of beaches one after the other seperated by just a few minutes drive. Alibaug a very popular weekend destination and has lots to offer the tourists from the crowded cities. Fresh sea food prepared in the typical konkani style and a visit to the seaforts of Colaba or the Murud Janjira is the highlight of a vacation in Alibaug.
Alibaug Beaches:

Though quite commercialized Alibaug still has a rustic charm going for it even now! Alibaug Beach is the main beach of Alibaug town and with horse rides, paragliding and road side vendors selling tender coconut and tadgolas to fried fish Alibaug is an ideal weekend destination from Mumbai
Colaba Fort:

Is situated in the sea at a distance of 12 km from the Elysium Spa Resort. During low tide one can walk to the fort. This was built by Chatrapati Shivaji Maharaj and is assumed to be the last one that he built before his death. The fort used to have a sweet water well. Colaba a sea fort less than a kilometer from the shores of Alibaug can be only accessed during low tide through a narrow strip of land which goes underwater during high tide. Within the fort you can see a few cannons in the 17 bastions and the 'Mahadarwaja'. The Archaeological survey of India charges a nominal token entry fee for the visit. Fort is open during all through the year.
Alibag beach:This is the main beach of the town.
THAL beach:Isolated Beach 10 km from Elysium Spa Resort.
Varsoli Beach:Located about a mile from the main beach, home to a very large naval base.
Akshi Beach:It is situated 10 km away from Elysium Spa Resort.
Nagaon beach:It is situated about 12 km away from Elysium Spa Resort and is famous for coconuts and betel nuts.
Kihim-Navgaon Beach:Kihim is a secluded place at a distance of 11 km from Elysuim Spa Resort. The Kihim beach is famous for dense cover of Coconut trees. It is also famous for woods which are home torare butterflies, birds and flowers.
Awas:It is situated about 8 km away from Elysium Spa Resort.
Saswane:It is situated about 10 km away from Elysium Spa Resort.
Rewas:It is situated about 12 km away from Elysium Spa Resort.
Chaul Revdanda:It is situated about 5 km away from Elysium Spa Resort.
Kaneshwar Mandir:It is situated about 10 km away from Elysium Spa Resort to Alibaug city road.
Mandawa:It is situated about 38 km from Elysium Spa Resort nested in the north of Alibag. The catamaran/ferry services are available from Mumbai to the Mandawa jetty. Many Bollywood celebrities own bungalows here.
Kashid Beach:It is 14 km away from Elysium Spa Resort, on the Alibag-Murud highway, also this beach is possibly one of the leanest and most beautiful beaches in the region with almost 'white' sand.
Korlai Beach:A quiet serene beach with alternate white and black sands, along a serene stretch of the Arabian coastine, adjacent to a village of Korlai Creole Portuguese speaking Indians.
Kankneshwar Temple: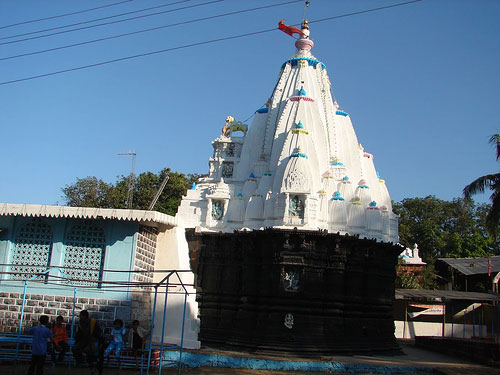 16 Kms from Elysium Spa Resort in Northeast direction is this very famous Shiv temple on a 900 ft. high hill. Its' a 5000 ft. long climb on well paved stairs, which takes around one hour landmarks along the route are tombs of MohanGiri and Balgiri, Nagoba Rest, Jambhali Plateau, God's stair, Gaymandi etc. The fatigue of the uphill climb vanishes the moment one enters the scenic temple premises. It comprises various small temples of Sri Paleshwar, Sri Hanuman, Sri Balram Krishna and Lord Shiv.The special attraction is an ancient sweet water tank enclosed in traditional structure of red stone. The ancient temple was built by Raja Ramdeorai yadav. The height of the Shiv temple is 54 ft. The front gate has Lion sculpture on both sides with traditional lamp-pillarV (deepmaal) in front. The 4 ft. long 'Pindi' of Lord Shiv is Silver plated. The premises also include Nagaar-khana, Bheem Kunda, a garden for flowers to be offered to the Lord, Sri Ram Ganesh temple and Gomukha. Every year, Kartik Poornima in Hindu calender is the day of fair. On this hill, variety of herbs are found.
Shri Dataa Mandir, Bhovale (Chaul):
This ancient shrine of Shiv looks like built in 'Hemadpant' style of Architecture, though, when it was built is not known. Angre history references say that it was renovated many times. The structure comprises of prayer hall (sabhamandap), sanctum sanctorum and 7.62 meter high summit shaped dome. In front of the prayer hall, there are three tanks (kund) namely Parjanya Kund, Agni kund and Vayoo kund.
Birla Mandir: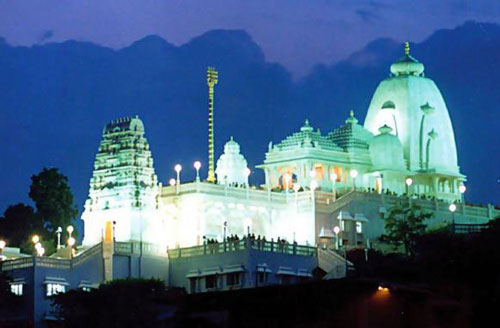 4 kms. from Elysium Spa Resort, to the left is this beautiful temple within the Vikram Ispat premise which has recently been taken over by Welspun Industries. The towering dome in exquisite white granite is visible from a long distance. Situated on a small hillock, you can walk up to the temple over well-paved stairs. The surroundings of the temple are made up of a well-planned garden and colorful fountains. The prayer hall is open on all sides and the roof is made of transparent Polymorph sheet. The temple has idols of Shree Radha-Krishnna, Shree Shiv-Parvati, Goddess Druga and Lord Surya. Life-size statue of Late Aditya Birla Stands in the garden. The pooja and prayer can be attended at 9am and 7.15pm every day. Entry into the temple premises is open from 6am to 11.30am and 4.30pm to 9.pm only.
Shri Siddhivinayak (Nandgaon – Murud):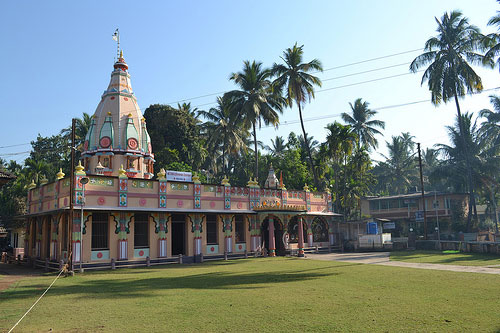 23 kms from Elysium Spa Resort. This village was know as Nandgaon in ancient times. Believers feel that a 'Darshan' of Lord Ganesh here lends finale to the 'Asthtavinayak' pilgrimage. A grand festival takes place every year on 'Maghi Chaturthi' day and another traditionally auspicious day for 'Darshan' is 'sankashti chaturthi' every month.
Murud-Janjira: